The Waking

I wake to sleep, and take my waking slow.
I feel my fate in what I cannot fear.
I learn by going where I cannot go.

We think by feeling. What is there to know?
I hear my being dance from ear to ear.
I wake to sleep, and take my waking slow.

Of those so close beside me, which are you?
God bless the Ground! I shall walk softly there,
And learn by going where I have to go.

Light takes the Tree, but who can tell us how?
The lowly worm climbs up a winding stair;
I wake to sleep, and take my waking slow.

Great Nature has another thing to do
To you and me; so take the lively air,
And, lovely, learn by going where to go.

This shaking keeps me steady. I should know.
What falls away is always. And is near.
I wake to sleep, and take my waking slow.
I learn by going where I have to go.



--Theodore Roethke









---
Joy's Updates - Straight from the Horse's Mouth.

Tuesday, April 29, 2008
DWTS - The Results

I hope Shannon dances off the show. I'm just not that into her. Jason, however, is another story! As Beth said, he is fine! And I'll get to see Maksim again next week - the Russian bad boy hottie.

Jason and Edyta danced the quickstep for the encore chosen by the judges. They were in first place last night and did so well on both dances. It was of course wonderful to get to watch Jason dance again. He keeps improving and does so well. Interesting about athletes and how they kick into high gear the more competitive it gets. Kristi and Jason both said so and talked a little trash.
I'm so glad Kenny Mayne was on DWTS, even though he didn't do well and didn't last long, because he comes back and does the funniest routines. He's deadpan and has great delivery. He, Jerry Rice, and Len Goodman commented on all the dancers on "Dance Center" in a hilarious spoof of sports commentaries. There were stats of the dancers with height, shoe size, best dance, worst dance, and notes. Kenny said Mario sucked up to the judges and "first name Mario, last name Macheese. (that's what it sounded like anyway) About Shannon and Derek the stats said "showmance of the season" which I suspected. Len of course mentioned her great legs and figure and said that she and Derek had great chemistry on the dance floor. Kenny said, "Yeah, get a room. 5'9" - she's tall and cries at the drop of a hat."

Def Leppard performed a couple of their songs, and the dancers rocked out. I didn't know they were still around. But they have a new album.

Back to Dance Center with Kenny Mayne who said she was perfect in every way but that it might be an unfair advantage because she was used to dancing on ice. Len disagreed. Jerry was on there to say few words but be funny, too. All this is hilarious! They said Marissa talked fast and was energetic. Then Jerry said it wasn't just Tony's chest that got attention but his teeth. Then they made a sparkly thing on his teeth. Len said that was a ballroom trick and as he smiled one of those sparkly gleams was on him, too. They were funniest about Jason since he's a fellow football player - world's tallest man on the stats. Kenny said he had a flatulence problem, and Len said he uses the same move in every dance. This is the funniest segment!

During the piece about what they do each day before the competition, all the contestants showed how frustrated they felt learning the dances and how hard it was. The adrenaline on the night of the performance gets them through it. Then they said they get ready to do it all over again the next week.

Cristian announced that he had an MRI and that his doctor had called him five minutes before to say he tore a tendon and would need surgery but could delay it. He said if the audience voted to keep him there, he planned to stay in the competition and would postpone the surgery. My votes helped!

After dramatically announcing who is saved and who is in the bottom two (Marissa and Shannon), they finally announced that Shannon had the lowest combined total from the judges and audience. She needed to go since she is the worst of the group. It's going to be more difficult to decide from now on.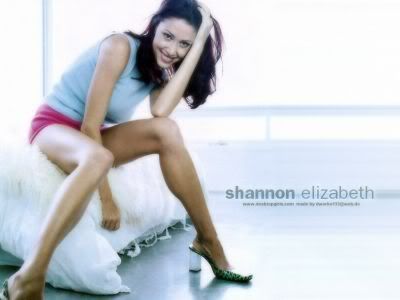 Shannon and her legs will walk on out. And what will become of her and Derek! He might be relieved. It's just something I picked up as time wore on. We'll see. Based on all the naked and almost naked photos I found of her while looking for one to post on here, she might just be too much for a nice Mormon boy. But then again ... who knows?
6:57:00 PM