The Waking

I wake to sleep, and take my waking slow.
I feel my fate in what I cannot fear.
I learn by going where I cannot go.

We think by feeling. What is there to know?
I hear my being dance from ear to ear.
I wake to sleep, and take my waking slow.

Of those so close beside me, which are you?
God bless the Ground! I shall walk softly there,
And learn by going where I have to go.

Light takes the Tree, but who can tell us how?
The lowly worm climbs up a winding stair;
I wake to sleep, and take my waking slow.

Great Nature has another thing to do
To you and me; so take the lively air,
And, lovely, learn by going where to go.

This shaking keeps me steady. I should know.
What falls away is always. And is near.
I wake to sleep, and take my waking slow.
I learn by going where I have to go.



--Theodore Roethke









---
Joy's Updates - Straight from the Horse's Mouth.

Tuesday, April 01, 2008
DWTS - The Results

In an effort to fill an hour with five minutes of results, DWTS has musical guests, dances, and many long pauses with red lights shining on dancers singled out at the bottom of the votes. There are highlights of the mean things the judges say, interviews with the dancers, and an encore dance the judges choose for us to see again on results night. Yet I continue to watch. What can I say?

The encore dance tonight was the "mango" performed by Jonathan and Steve Guttenberg that Jonathan had to teach him since his wife Anna had the flu. It was quite a performance and funny. They made a big deal out of being manly about it.


Hey Alistair! Kylie Minogue performed in a shiny, short red dress. She's almost as cute as Lucy.

I'm typing as I watch and predict that Marissa will probably be eliminated since they announced that Adam and Kristi are staying, and Marissa had the lowest score. She probably doesn't have as many TV fans who would vote for this as some since she's a Tony winner on Broadway. We'll see if I'm right or not. It could be Steve or Marlee. He got to dance tonight which might be foreshadowing.

Cilla and Marissa continue to the next round. Aha! Marissa was saved! Well, now I wonder who it could be! The tension mounts! Sometimes it's a big surprise like last year when Sabrina the Cheetah Girl was voted off early and had high scores from the judges all along. Ah the fickle public! Who can tell!

Enthusiastic performance by the Alvin Ailey American Dance Theater. Then Kylie Minogue again in a combination dominatrix/bus driver outfit that was strange.

Dr. Pepper Schwartz (heh heh Dr. Pepper) a matchmaker said the perfect compatible couple is Kristi and Mark and that they will be difficult to beat. Oddly, she'd never seen any of the couples dance together, they said. Kristi and Mark have had the best scores and look like winners. She said Adam and Julianne are the most incompatible, which I believe we've seen, but Julianne is a trooper and Adam tries hard and wants to not be embarrassing. See what I mean about how they fill an hour? They also had a humorous piece about hobbies the dwarf stars supposedly had to help them relax.

OK, Marlee, Jason, Cristian, and Shannon are safe. This leaves Steve and Mario as the bottom two. After another too-long pause ...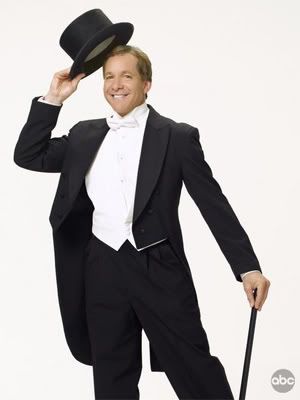 The Gute is gone! Long live the Gute!
8:01:00 PM