The Waking

I wake to sleep, and take my waking slow.
I feel my fate in what I cannot fear.
I learn by going where I cannot go.

We think by feeling. What is there to know?
I hear my being dance from ear to ear.
I wake to sleep, and take my waking slow.

Of those so close beside me, which are you?
God bless the Ground! I shall walk softly there,
And learn by going where I have to go.

Light takes the Tree, but who can tell us how?
The lowly worm climbs up a winding stair;
I wake to sleep, and take my waking slow.

Great Nature has another thing to do
To you and me; so take the lively air,
And, lovely, learn by going where to go.

This shaking keeps me steady. I should know.
What falls away is always. And is near.
I wake to sleep, and take my waking slow.
I learn by going where I have to go.



--Theodore Roethke









---
Joy's Updates - Straight from the Horse's Mouth.

Monday, July 21, 2008
Brendan, Bluegrass, and Batman

I had a busy weekend. I met Brian in Bellevue to get Brendan for his overnight visit. Mother went with me, which helps so much. We enjoy him together, and she helps keep an eye on him. He is so quick and gets from one place to another extremely fast. I think he should run track.



Brendan's on a Chieftains kick now because of the DVD he's been watching about their concert at the Ryman in Nashville. They recorded Down the Old Plank Road in Nashville with various musicians, such as Emmylou Harris, John Haitt, Vince Gill, Allison Krauss, Earl Scruggs, Ricky Skaggs, Bela Fleck, Jeff White, Tim O'Brien, Buddy and Julie Miller, Lyle Lovetty, Patty Griffin, the Del McCoury Band, Martina McBride, and Gillian Welch and David Rawlings.

It's an excellent DVD. This is what was written about it on the BMI site:


The Chieftains revisit Nashville to record with popular country and bluegrass artists and it is a sequel to their successful album recorded in 1992, Another Country. This album examines the "Green grass" connection to American Bluegrass music. The album was nominated for two grammys in the categories of Best Contemporary Folk Album and Best Country Collaboration with Earl Scruggs. The album was nominated for an IBMA (International Bluegrass Musicians Association) award for best Recorded Event of the Year. The tracks trace how a number of Irish tracks became American yet still have a thread of its Irish heritage running through the piece. It is a solid album for any Chieftains or bluegrass fan.
Of course Brendan knows every song, which artist sings each one, the instruments everyone plays, and has memorized the introductions to the songs and wants me to be Derek Bell, who introduced himself as Derek "Ding-Dong" O'Bell. He'll go into the introductions and songs and then ask me to say his name and wiggle my fingers the way Bell did when he was introduced. If I don't say something in exactly the tonation and words they used, he corrects me and has me do it again - and again and again. Brian said he does this the way Kevin Smith directs. Yes, that goes with Asperger's. Maybe Kevin Smith has it, too.

So Brendan sang and performed on the car ride to Dickson. We stopped at Cracker Barrel to eat, and he spoke to all the waitresses by name since he read them on their "bibs" as he called their aprons. Makes sense. Then he'd have a conversation with them and told one that she was good at bringing the food. Nothing like a compliment or positive reinforcement, as we say in the ed biz.
He played for a while on the porch and chatted with more people. We went to Mother's for a while where he played and performed some more. He didn't go to sleep Saturday night until 9:45 and then woke up around 4:30 and wouldn't go back to sleep. Neither did I. Short night - long morning!

We met Brian and Melissa at Green Hills Theater along with my friend Linda. Brian and Brendan went to Whole Foods and other places while Linda, Melissa, and I saw The Dark Knight, which was wonderful. Christian Bale is my favorite Batman and plays him equally well as Batman and Bruce Wayne. He's so handsome and hot, too! Of course, Michael Caine and Morgan Freeman were perfect in their roles, and the writing was excellent.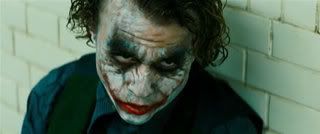 Then there was Heath Ledger's amazing portrayal of the Joker. All the praise about his performance is justified, and he probably will win an Oscar for it. His Joker is psychotic, intense, and terrifying. It was so sad watching him and knowing we will never see his talent again and that his daughter will never know him. It's tragic.

After the movie, we ate at a Vietnamese restaurant which was very good. I enjoyed the meal but especially the company. Melissa and I haven't had much time at all to visit and spend time with each other, so it was a treat to get to do that. We finished our day by going to McKay's and browsing through the stacks and buying a few things. We're going to plan more outings and find fun things to do.

I'll keep Brendan so they can see the movie together since Brian has been a major comic book aficianado for decades and even writes a blog about them. Check it out if you or someone you know is interested in comic books and graphic novels. Fortunately, he married someone who shares his interests. They are a perfect match and my role model for how to be a couple.
5:22:00 PM