The Waking

I wake to sleep, and take my waking slow.
I feel my fate in what I cannot fear.
I learn by going where I cannot go.

We think by feeling. What is there to know?
I hear my being dance from ear to ear.
I wake to sleep, and take my waking slow.

Of those so close beside me, which are you?
God bless the Ground! I shall walk softly there,
And learn by going where I have to go.

Light takes the Tree, but who can tell us how?
The lowly worm climbs up a winding stair;
I wake to sleep, and take my waking slow.

Great Nature has another thing to do
To you and me; so take the lively air,
And, lovely, learn by going where to go.

This shaking keeps me steady. I should know.
What falls away is always. And is near.
I wake to sleep, and take my waking slow.
I learn by going where I have to go.



--Theodore Roethke









---
Joy's Updates - Straight from the Horse's Mouth.

Tuesday, May 13, 2008
DWTS - The Results

Tonight we found out which ones are in the finals. It's Kristi, Jason, and Cristian. Marissa will be in the audience next week. Based on ability, difficult choreography, and consistency of performance, Kristi will probably win the trophy. Next is Jason who just might be the one. It will be between those two, I think. Cheryl is my favorite professional dancer, and I like Maks for other reasons. I also like Edyta and Julianne. Marissa has been so much fun to watch. She's improved so much and is enthusiastic and positive. I'd have enjoyed seeing her in Hairspray and am glad she won a Tony for it.


Out of all the women on Season 6, Marissa and Kristi made it to the semifinals.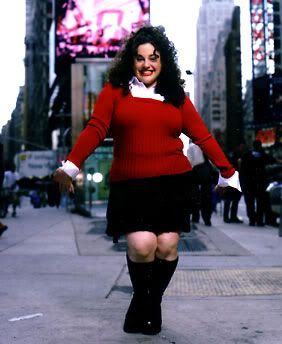 Cute Marissa Jaret Winokur NYC pose and on stage with Harvey Fierstein in Hairspray



Now back to her husband Judah Miller (King of the Hill writer) and parenthood!
6:48:00 PM